Article from the Thai Newspaper "The Nation"
7 Feb 2002 (Focus Feature)

A Musical Tale of Two Kingdoms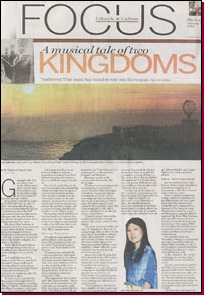 Traditional Thai music has found its way into Norwegian classrooms


Geographically they are many thousands of kilometers apart, but distance is no obstacle to a warm relationship that has lasted for the best part of a century. King Rama V visited the Land of the Midnight Sun on July 12, 1907, two years after Norway became an independent kingdom. Thailand was one of the first countries to formalize diplomatic relations with the new Norway, and the two Kingdoms have maintained close ties ever since. The Royal Thai Embassy in Oslo estimates that there are some 6,000 Thais living in Norway, while Norwegian visitors to Thailand in 2000 totaled 65,000 not bad, considering the population of the Nordic Kingdom is a mere 4.56 million. Today Thailand and Norway are strengthening the bonds by building a new friendship bridge with the help of two musicologists. Prof Kjell Skyllstad of the University of Oslo and Asst Prof Bussakorn Sumrongthong of Chulalongkorn University's Faculty of Fine and Applied Arts, Music department first met at the Asian Multi Cultural Music Festival in Columbo, Sri Lanka and they hit it off from the start. It is not a story of two lovers, but a story of two music lovers, says the Thai ambassador to Norway, Takoon Panich. Norwegians and the Thais living here, would have no opportunity to learn about Thai classical music, were it not for these two great musicians.

Not longer after her return from Sri Lanka, Dr. Bussakorn received an invitation from Prof Skyllstad to come Oslo to give a lecture, which she happily accepted. But, as luck would have it, she only learned about the scholarship scheme for university lecturers to work abroad for three months when she arrived back from the Norwegian capital. As the only criterion set was a letter of recommendation from the country concerned, she decided to apply, only to notice in dismay that the closing date was the following day. Fortunately, Skyllstad offered a helping hand and supported her application. He also extended the period from three to nine months to allow her sufficient time to set up her project to promote and teach Thai classical music.


Musical Donation

Bussakorn's plans panned out and on March 1 last year, the Royal Thai Embassy in Oslo presented 43 Thai classical instruments to the Music Institute of Norway. The project has adopted the workshop approach and targets mainly students from Trondheim University and the University of Oslo. One-year certificate courses are also available at the music institute and at the international department for children's art. Thais wishing to attend are exempt from fees. Norwegians are very interested in Thai classical music. This is because we do not teach them to read notes as is common in the West, but rather to memorize them. They find it very challenging. The students are also given instruction in Thai beliefs and are encouraged to exchange ideas, thoughts and lifestyles.

Bussakorn smiles as she recounts the chaos in the children's class.The kids were running around and jumping over the instruments. I was horrified. But rather than shout, I explained that the instruments provided us with knowledge and that in Thailand objects are respected in different ways. We show respect for our homes by keeping them clean. The instruments give us the gift of sound and that it why we should always respect them. I think it helped them understand the traditional homage made to ones teacher before a class begins.

We never say "don' t do that, it's bad." We explain the Thai way of doing things. Almost all the teaching is based on Buddhist culture. Only if humans learn to respect the cultures of others can peace become a reality. Music is an important tool in teaching understanding. Culture, lifestyle, views and practices say a great deal about the nation. Bussakorn is also hoping that Thai classical music will be adopted as a course at all levels of instruction and not just as an elective subject at a university.

Right now, we are waiting for a response to Prof Kjell Skyllstad's proposal to the Ministry of Culture that Thai classical music courses that will also include cultural exchanges be offered at primary schools. The Norwegian children we have taught loved the music, especially the Anglung (instrument made of bamboo tubes). They would all reach for them the moment they heard the rhythm. In another class, we taught the youngsters to sing and dance to 'Khmer Lai Kwai'(Khmer Buffalo Chasing Song). We divided them into two groups, with one group playing the Khmer and the others the buffaloes. They loved it.
Norway was not Bussakorn's first experience in promoting cultural exchanges through music. In 1993, while working for her Doctorate at the University of York, she travelled down to London on the weekends to facilitate workshops for students attending Kingston University, Winchester University, the School of Oriental and African Studies, plus pupils from a few secondary schools.


Royal Encouragement

She was thrilled when HRH Princess Maha Chakri Sirindhorn presented a complete set of instruments to the Thai Classical Music Club in London. When Bussakorn performed during a Buddhist exhibition in the Netherlands, she met a professor from the University of Amsterdam who expressed his interest in Thai classical music. They kept in contact by email and Bussakorn suggested that he approach the Royal Thai Embassy about possible sponsorship for buying and transporting musical instruments. Once again, HRH Princess Maha Chakri Sirindhorn came to the rescue and gave the traditional Thai instruments to the university. Yet, she insists that her friendship bridge is not finished and hopes that HRH Princess Maha Chakri Sirindhorn will be able to accept the invitation from the Royal Thai Embassy to perform in Oslo next year. In the meantime, she intends to continue her mission of promoting Thai music around the world. She has already developed her first Thai classical music website: http://pioneer.chula.ac.th/~sbussako, which has proved as popular with foreign music students as with her own and will shortly launch http://intermusicenter.org to meet the growing demand for information about the Arts in Southeast Asia.


"My intention is to construct cultural bridges of friendship worldwide" says the professor.