Le Corbusier
---

From... http://www2.acs.oakland.edu/~hxu/buildings/index.html#main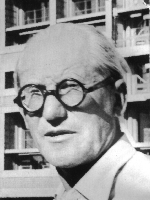 Le Corbusier, มีชื่อจริงว่า Charles-Edouard Jeanneret, เป็นสถาปนิกที่ยิ่งใหญ่ผู้หนึ่งในยุค the early 1900's. Le Corbusier เกิดที่เมือง Chaux-de-Fonds, Switzerland, ในเดือน October 6th, 1887, ใช้ชีวิตส่วนใหญ่ใน France. เขาเสียชีวิตในแถบ Mediterranean ในเดือน August 1965. เขาได้คิดค้นระบบของสัดส่วน ของการออกแบบทางสถาปัตยกรรม - Modulor, ซึ่งกำหนดจากพื้นฐานของสัดส่วนมนุษย์ จากความสูง 1829 มม,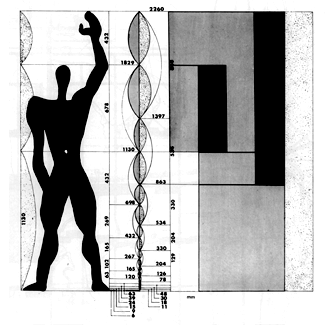 งานนิพนธ์สำคัญของเขาประกอบด้วย
Vers une Architecture (Towards a New Architecture),
Urbanisme (The City of Tomorrow),
L'Art decoratif daujourd'hui, and
La Peinture Moderne.
ในสิ่งตีพิมพ์ เขาได้เสนอความคิดที่สำคัญตั้งแต่สมัยแรกๆ คือ "five points of modern architecture"--
the replacement of cellars and foundations by piles and pilotis;
the use of roof gardens;
the point loading of floor supports to free internal planning;
the change from windows to strips of glass running from wall to wall;
the creation of a curtain-wall facade which would no longer carry load.
Here are some of his masterpieces:
---
Le Corbusier's quotations:


My house is practical. I thank you, as I might thank Railway engineers or the Telephone service. You have not touched my heart. But suppose that walls rise towards heaven in such a way that I am moved. I perceive your intentions. Your mood has been gentle, brutal, charming or noble. The stones you have erected tell me so. You fix me to the place and my eyes regard it. They behold something which expresses a thought. A thought which reveals itself without word or sound, but solely by means of shapes which stand in a certain relationship to one another. These shapes are such that they are clearly revealed in light. The relationships between them have not necessarily any reference to what is practical or descriptive. They are a mathematical creation of your mind. They are the language of Architecture.
By the use of inert materials and starting from conditions more or less utilitarian, you have established certain relationships which have aroused my emotions. This is Architecture.


Architecture means plastic invention, intellectual speculation, higher mathematics. Architecture is a very noble art.


You employ stone, wood and concrete, and with these materials you build houses and palaces. That is construction.

see

as original