When I was a child I'd like to be an ASTRONAUT !?!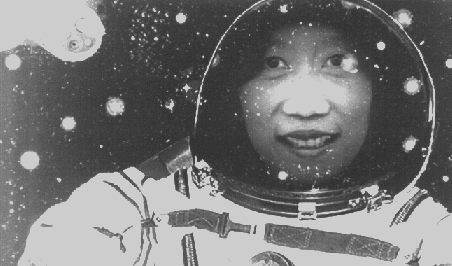 My favorite pix from MAR : (More information contact NASA)
Happy Valentine's DayFrom Mars! MGS MOC Release No. MOC2-207, 11 February 2000


"Happy Face" Crater Greets MGS at the Start of the Mapping Mission MGS MOC Release No. MOC2-89, 11 March 1999
---
Full name : Ariya Aruninta
Nick-name : Look-narm (mosquito larva). But you can call me 'NARM




Birthdate : Friday February 21st, 1964
Education : PhD Candidate (Urban Environmental Management, AIT, Thailand), Master of Landscape Architecture (U. of Colorado at Denver, USA)
: Asia Europe Programme Diploma (Sciences-Po, Paris), 2003 (Detail)
: Diploma of Environmental Planning and Management (IHS, Rotterdam, Holland) 1994
: Bachelor of Landscape Architecture (Chulalongkorn University, BKK, Thailand)
Hobbies : Travelling, Water coloring, TV watching, Movies
Associations : Alumni of these following online communities...
Doggies : Beatles (Golden Retriever), Nice Night (Black Labrador), Nuir Nia (Black Labrador+Retriever), Kimono (G.Sheperd), Raccoon (Thousand-way), and Black (Middle Road)


Occupation(s) : landscape architect, site planner, lecturer, government officer of kingdom of Thailand
Employments : Suan Luang Rama IX Memorial Park Foundation, as a project landscape architect. 1986-1987
: Design Workshop Inc -Denver office, full time trainee 1988-89
: Public Works Dept, Ministry of Interiors, as a landscape architect (full-time). 1989-1994
: Chulalongkorn University, Faculty of Architecture, Dept of Landscape Architecture, as a lecturer (full-time). 1994- present
Motto : "Beyond the sky is the unlimited of Universe! >>> no-one is the highest!"
What's TNT ? : TNT is Think Nature Team. It's only a name of a non-official group of people, actually now it has only 3 members. I am the founder, I 'm working on designing of the LOGO of our team. The concept of Logo is >>> the picture of something looks similar to TNT Bomb (if you don't Think-nature) or tree (if you Think-nature)
THANKS FOR VISITING MY HOMEPAGE!